So read highlights about some of the performances below, then make sure to check the
schedule
so you don't miss your favorites!
The Ghosts of Erin
The Ghosts Of Erin made their debut in 2006, sharing the stage with such Celtic notables as Albanach, Martin Furey, The Banshee Dancers and Seven Nations. In a short period of time, the band distilled from a 7 member traditional ceili format to a 4 piece dynamic - embracing the Uilleann pipes, Flute, Fiddle, Bodhran, Guitars, Vocals and Dancing - and expanding on regional Irish stylings to include Celtic song as well.
The Ghosts of Erin include Dr. Eric Hahn on Uilleann Pipes and Flute, Chad Roberts on Guitar and Percussion, Heather Roberts on Vocals and Dance and Jerry Jacuzio on Fiddle and Guitar.
Thunder and Spice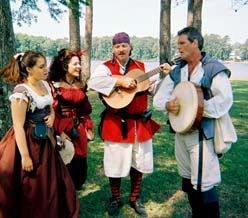 Thunder and Spice  love to sing and perform sea shanties, pirate and pub songs, as well as melodic harmonies in the Celtic, Folk and Renaissance tradition.  Each member puts a variety of theatrical talents and years of musical experience to use in this versatile performance group.
Whether singing bawdy songs at the pub, leading a family crowd in folk sing-alongs, trading sea shanties with pirate crews, these lads and ladies perform with incredible energy and a contagious sense of fun !
Cherie Lassiter, local musician and songstress will cast a spell on you through music and voice. Cherie's music, a blend of Celtic, Folk, and New Age, has been delighting the people of Raleigh since she was just 16. So come spend some time with Cherie and her music and truly be enchanted. For more information about Cherie Lassiter and how to get your own copy of her debut CD "Heart Shadows", check out Cherie at
Annwyn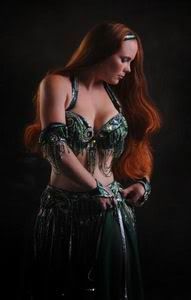 Annwyn, an award winning, Internationally known
dancer has been intensely studying Middle Eastern Dance
for her entire adult life. A highly trained Oriental Dancer,
Annwyn has been featured in three magazines,
participated in, and taught numerous classes,
workshops,and shows in the states and abroad. After
spending  three years in
Japan
teaching and performing  
at numerous events.  She is now living  in the Cape Fear
North
Carolina
area where she performs and teaches
many different forms of Middle Eastern Dance.  Including
Turkish Oriental, Egyptian Oriental, American Cabaret,
and Turkish Rom Fusion (commonly known as Gypsy).  
Her extraordinary performances include Veil, Double
veil,  Isis Wings, Sword, Cane, Candles, Zills, and Spoons
Mermaid Morrigan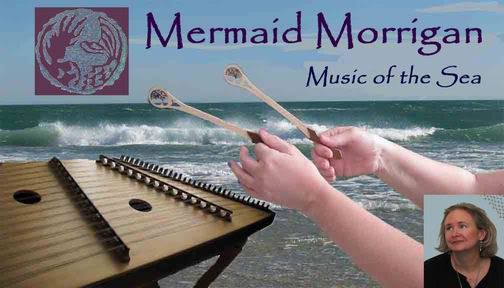 Cindy Rhodes aka Mermaid Morrigan,
is an
accomplished musician &
award-winning artist living in beautiful coastal
North Carolina
.  With her classical training & performance experience, she now uses her talent to  compose & perform her original compositions for the piano & hammered dulcimer.  Combining the grounded tones of the piano  & the airborne tones of the  dulcimer, she creates what she calls "mermaid music," an ethereal concoction of soundwaves that places the listener into her meditative mermaid world.  Currently, she is completing a new CD to be called "Mermaid's Blessings!"                                                                                                      
 Raven Moonstar The Berserker
Raven Moonstar is a student of Xavier Shadow Dancer at Twisted Dance Studio of Greensboro, NC and performs Egyptian Cabaret Style. She has been dancing for 3 years under his instruction.
Amanda Mistress of the Hoop


Amanda has been a student of the Hoop Path for three years and through hooping has become entranced by the art of "flow". She finds joy entertaining, teaching, and inspiring others through "flow" with hoops, poi, staff and juggling.







Battle on the Green
"This Means War!"
European Medieval Arts of Arms
For everyone who enjoys the history of the sword. For everyone who enjoys the Martial Arts. For everyone who loves the sound of steel on steel. Those brave knights are back again, to risk life and limb for honor and glory. They, who have thrilled us year after year, risking injury and sore muscles to give you a taste of days gone by. Come and enjoy. Come and learn. Come and cheer on the fighters as they pay homage to and show their admiration for the warriors of ancient days who fought with courage, skill, and a good piece of steel. You'll find them just inside the entrance. Just follow the sound of steel on steel.To find more about EMAA, go to their website at 

www.emaaknights.com

We have lots of great entertainment this year, both on the main stage and around the festival.  Listen to live music, watch belly dancing, hooping and medieval arms, demonstrations and even participate in an interactive drum circle.  We are very excited about the huge variety of acts and performances planned for the event.